Plan It For The Planet
Plan It For The Planet
You might know this holiday season is kicking off during a time of unprecedented supply chain delays, but did you know that on average rush shipping generates approx. 40% more carbon emissions than standard shipping*? It's true. That's why we at Love Beauty and Planet found that if every one of us finishes our online shopping before December 4th, without selecting next-day or same-day delivery, we can avoid up to 2.4 million tons of carbon emissions. That's the equivalent of the carbon sequestered by 40 million trees over ten years!**
*Based on case study conducted in Mexico. Assuming 10kg packages are shipped a distance of 2900 miles.
**CO2 Emissions in the U.S. (tons) for items up to 10KG moved an avg distance for inbound transportation of ~2900 miles; Greenhouse Gases Equivalencies Calculator - Calculations and References | US EPA. (2015)
small acts of love add up
This year, we're giving our beauty fans another reason to feel good about their early shopping: a gift to the planet.
Until December 4th, for every use of our #PlanItforthePlanet hashtag on social media**, Love Beauty and Planet will donate $19.99 (the average value of rush shipping) up to $150,000 to the National Forest Foundation's reforestation efforts, which will support the planting of 150,000 trees in the U.S.
**On Facebook, Twitter, Instagram and TikTok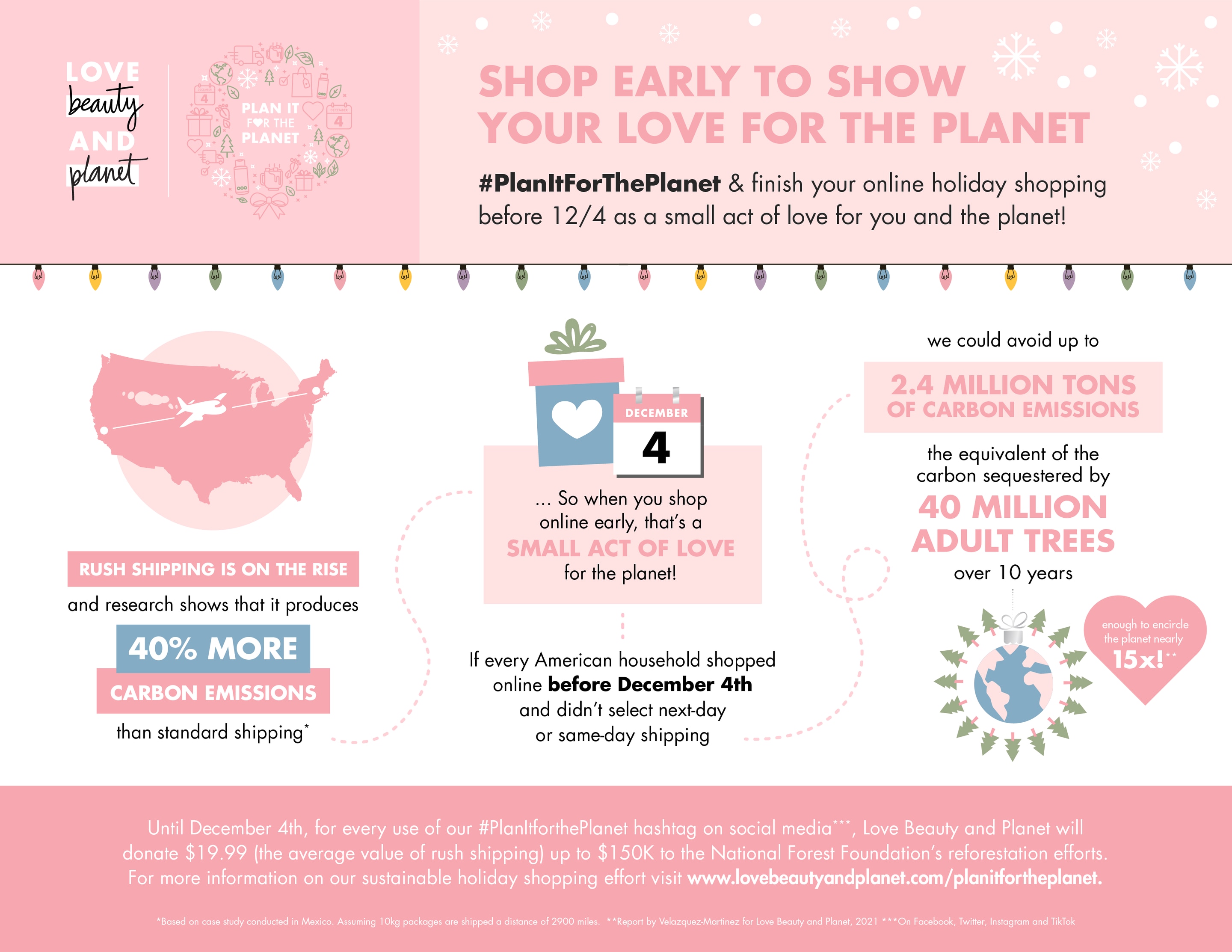 Take the pledge on Facebook
Take the pledge on Twitter
a cleaner, greener planet for all
Being carbon conscious means caring for more trees. It's why we've partnered with non-profit National Forest Foundation to support their many reforestation programs. Visit their website to learn more.