Shea butter benefits for hair
What is shea butter and where does shea butter come from?
Shea butter is the fat extracted from the nuts of shea trees. Love Beauty and Planet sources its shea nuts from women-led producers in Ghana and Burkina Faso, where farming is key to the community. They are made following long-standing traditions: melted under wood fire and then cooled.
Shea butter, often thought of as a skin superfood, has been used for centuries for cosmetic reasons and continues today to be a beauty solution for everything from baby care to wrinkles. But it's not just your skin that can benefit from shea butter – shea butter is also great for hair. Read on to find out more about shea butter benefits for hair and to answer the question 'what is shea butter used for?'.

What is shea butter good for?
As we explained above, shea butter has been used for skin care for centuries. There are so many shea butter benefits, and they're not limited to skin care. Here are some great shea butter benefits for hair:
1. Moisture
Shea butter is full of fatty acids and vitamins which help to hydrate your hair. Shea butter also has emolliating qualities, helping to lock in moisture without leaving hair heavy or greasy.
2. Stimulation
Massaging shea butter into your hair is a great way to retain or replace natural oils without stripping the ones on your hair and head. Plus, this extra stimulation helps to promote follicle growth.
3. Anti-frizz
Shea butter for hair is also a great way to combat frizz due to its smoothing properties. Using products infused with shea butter can help coat strands and soothe your scalp, tackling frizz.
4. Protection
Just as shea butter helps protect skin from heat and cracking, shea butter can be a great heat protectant for hair too. This is because it creates a barrier on your hair that can be a healthy alternative to chemical heat protectants, and also helps with UV protection.
5. Happy scalp
Thanks to its gentle moisturizing properties, hair products infused with shea butter are a great choice if your scalp needs a little TLC.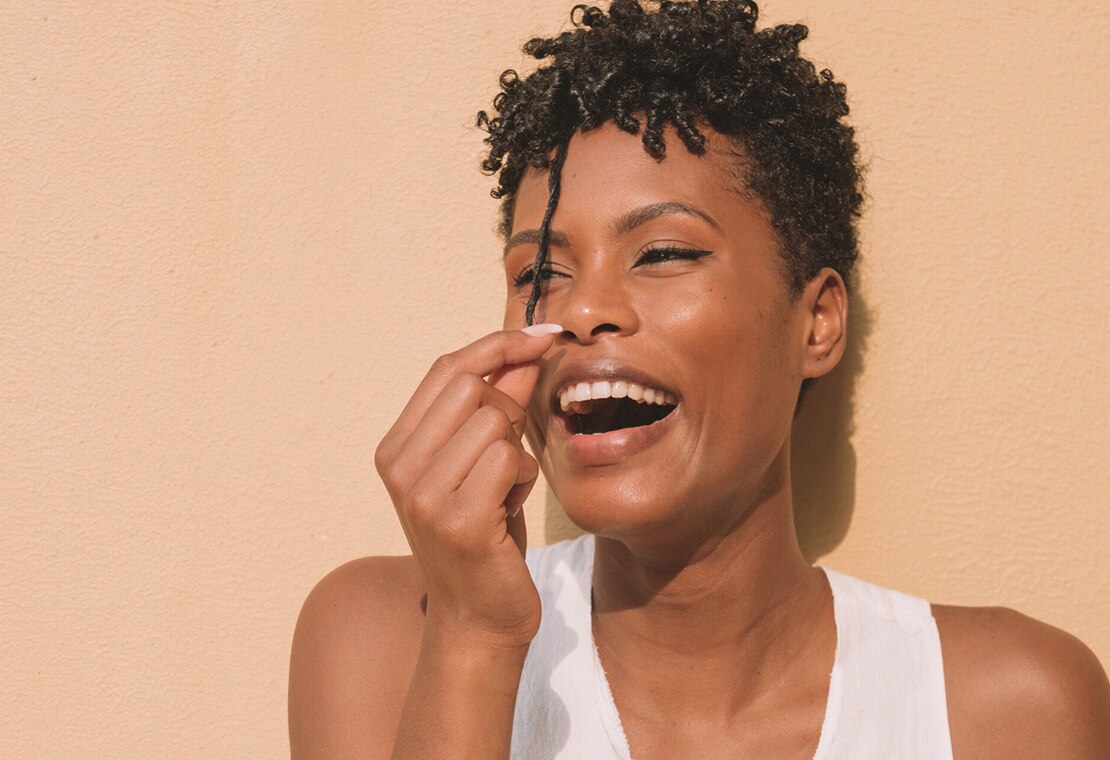 When and how to use shea butter
If you've read the shea butter benefits listed above, then the answer to 'why use shea butter?' is pretty obvious, but knowing when and how to use it may not be so easy. That's why we've created this handy guide to explain why use shea butter for different hair types and how to add it to your routine.
Curly hair
If you have curly hair, we recommend using a product like our Sulfate-Free Shea Butter & Sandalwood Shampoo. This shea butter shampoo helps to moisturize your hair but is light enough that won't weigh your curls down, so you still have volume and bounce. Plus, your hair will thank you for choosing sulfate-free shampoo! Why is sulfate-free so important? We explain it all in our article Benefits of Sulfate-Free Shampoo.
Dry hair
If you have dry hair, then consider adding a nourishing conditioner into your hair care routine – we recommend our Shea Butter & Sandalwood Conditioner. This shea butter conditioner helps to seal in moisture, leaving hair smooth and nourished.
Fine hair
If you have fine hair, you'll want to avoid products that can be heavy and weigh it down, as this will cause hair to look dull and tired. We recommend using a product like our Shea Butter & Sandalwood Gentle Cleansing Conditioner, designed to help dissolve grease and buildup while giving hair luxurious bounce.
Now you know the answers to 'what is shea butter?' and 'why use shea butter?', and you know how to use shea butter for hair, you're fully prepped to start adding it to your beauty regime. Be sure to check out our full Shea Butter & Sandalwood range to experience shea butter benefits from head to toe!