The Nourishing Benefits of Using Coconut Oil for Hair
Ever wondered why just about every beauty or skin care product has coconut oil as an ingredient? Have you asked yourself "is coconut oil good for your hair?" Well, you're not alone.
It's not a trend as many may think: Coconut oil has been used for many years to moisturize and even acts as a natural sunscreen. Adding this ingredient to your everyday products like hair oils, shampoos, conditioners, and even to body lotions or creams can take the formula up a notch, providing you with its natural moisturizing properties. Due to its various effective uses, coconut oil has taken off as a must-have staple in the beauty, skin and hair care routines of women around the world.
The uses of coconut oil don't stop there. If you want to learn more about how you can use it or what to use, read on...

coconut oil benefits for hair
1. helps soften and condition hair
The use of coconut oil on hair helps reduce protein loss in all hair types. And, because this oil is rich in lauric acid and easily penetrates inside the hair shaft it is great to use as a daily conditioner.
2. helps add shine
Coconut Oil for hair also helps lock in moisture giving it a gorgeous glow and shine.
3. stimulates hair growth
Coconut oil is a natural way to help your hair grow longer, thicker, and faster. The vitamins and essential fatty acids naturally found in coconut oil nourish the scalp and help to remove sebum build-up from hair follicles.
what kind of coconut oil is best to use
Let's start off with answering what kind of coconut oil is best for hair. A rule of thumb is to opt for extra virgin coconut oil (EVOO), as refined or processed coconut oil is often bleached. The oil may also be chemically processed to increase shelf life. Extra virgin coconut oil doesn't go through any of these processes, and you want to make sure you're using pure coconut oil—or at least, the purest form available to you—in your personal care products!
In all of our products, we use virgin and natural coconut oil that comes from the Philippines. So, if you're looking for what coconut oil is best for hair, stick with organic, extra virgin coconut oil from the best source. Find out more about Coconut Oil by reading here.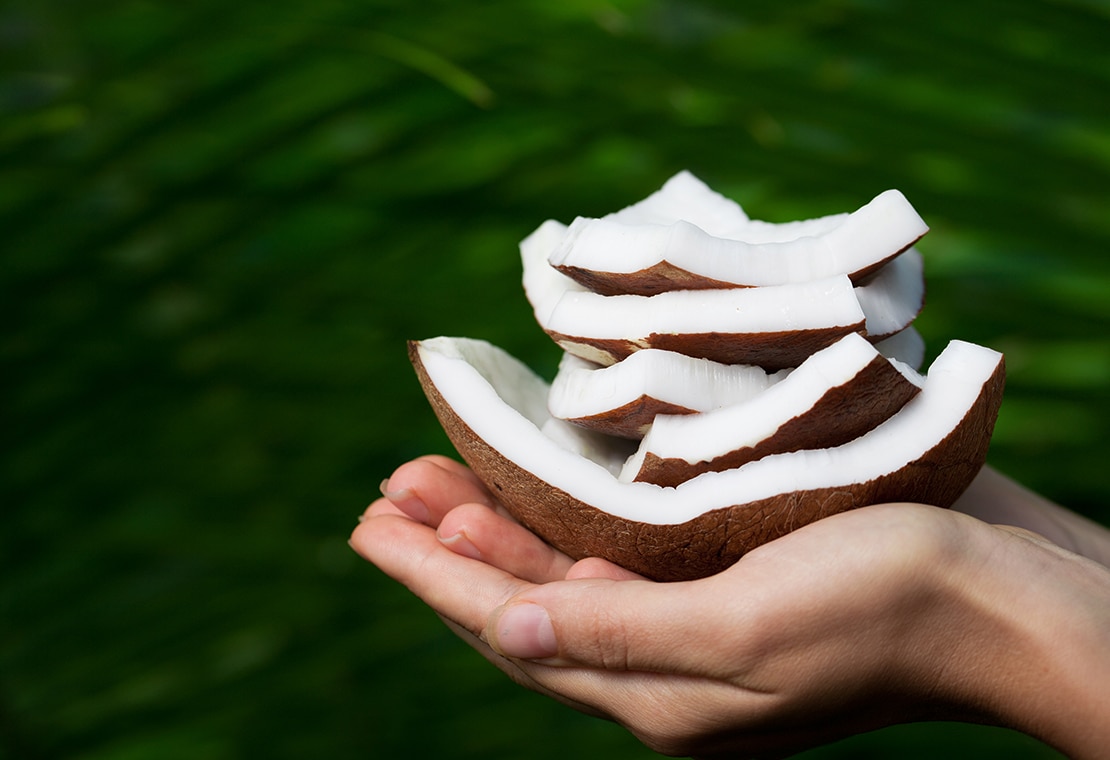 how to use coconut oil on hair
1. treat dry & damaged hair with coconut oil
Is coconut oil good for hair that is dry or damaged? Why, yes! You'd be relieved to know that having damaged hair is not the end of the world. Coconut oil is great for treating dry or damaged hair. With Love Beauty and Planet Coconut Oil & Ylang Ylang Shampoo, Conditioner and Benefit Oil, there is hope for your hair! Use the wash and care system to cleanse and visibly repair hair and prevent split ends.
You can also follow up with the oil as a post-wash treatment to add smoothness. Complete wash day with the 3-in-1 oil. This oil is infused with virgin coconut oil, nourishes helps to repair hair and prevent split ends for smooth and healthy-looking tresses.
2. use coconut oil when swimming
Using coconut oil on your hair before taking a dip in the pool or beach is a natural and environmentally friendly way to protect your hair from chlorine and saltwater. Coat hair with the oil and comb through to distribute evenly.
3. use coconut oil to tame frizz
If coconut oil isn't a staple in your styling routine, you should definitely consider adding it. Coconut oil is great for taming and preventing frizz. When applying, keep in mind that a little goes a very long way. Only apply about a dime-sized amount to your hair.