The 101 on dry hair: How to moisturize dry hair
Dry hair typically happens when our scalp isn't producing enough natural oils to moisturize our locks. For many people, this is genetic, but this can also be brought on by environmental stresses such as pollution, hair styling, and ageing. If you're looking for tips on how to hydrate hair and, in particular, how to moisturize dry hair, then look no further! We've compiled a list of our top tips and tricks to achieve perfectly hydrated hair.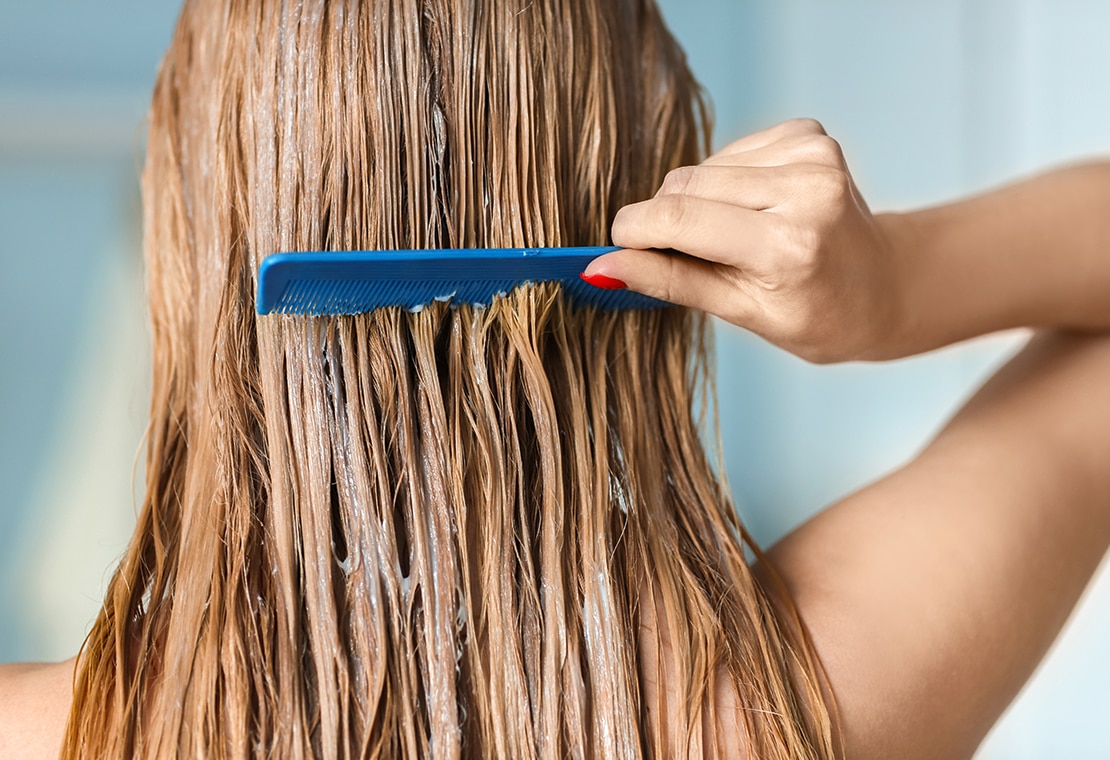 How to moisturize hair: Our top 10 tips
1. Choose a shampoo that is designed for dry hair
Choosing a shampoo specifically designed for dry hair is a great way to help hydrate it. We personally recommend our Coconut Oil & Ylang Ylang Shampoo, infused with natural organic coconut oil that helps to retain moisture and leave hair silky smooth.
2. Skip the daily shampooing
This is a particularly good method if you're wondering how to moisturize natural hair. If your hair is naturally curly, you'll know moisture is the key to good definition, so why not take a day or two off shampooing to give your scalp a chance to replenish its natural oils. There's no need to be worried about greasy hair when taking a break from shampoo, simply refresh your locks with a spritz of our Murumuru Butter & Rose Dry Shampoo.
3. Avoid extreme weather conditions
If you have dry hair, then extreme weather conditions, like too much sun or wind, should be avoided as they can lead to even more dry and brittle hair. Apply some UV protection to your hair if you're wondering how to moisturize your hair (and keep it moisturized) or wear a cute hat or scarf when out in the hot sun.
4. Waterproof your hair with a thick conditioner cream before taking a dip in the pool
Wanting to take a dip in the pool or ocean but find the chlorine or saltwater often leaves your hair feeling dry and brittle? Apply some of our Argan Oil Leave-in Conditioner before you go for a swim, so you don't have to worry about how to hydrate hair. Make sure you keep it moisturized after swimming too.
5. Ditch the chemicals when taming frizzy hair
Chemical agents may help when straightening your hair but are your enemy in the search for how to moisturize dry, natural hair. Easily prevent frizz and flyaways by using a hair oil on either damp or dry hair. We recommend our Coconut Oil & Ylang Ylang 3-in-1 Benefit Oil, specifically designed to nourish and help repair hair for smooth and healthy-looking locks.
6. Deep condition hair overnight as a daily moisturizer
This is one of our easiest tips on how to moisturize dry hair – apply a leave-in conditioner or hydrating hair oil, wrap hair in a silk scarf or shower cap, and get your beauty sleep. In the morning you'll wake up with hydrated, healthy-looking locks.
7. Trim your hair regularly but don't brush it too often
Brushing your hair frequently can increase frizz and may even damage hair. Help combat this by reducing how much you brush your hair and getting regular trims. Cutting your hair allows your locks to grow stronger and healthier as you are removing hair that may otherwise split.
8. Lay off the excess hair color
Make sure that if you are coloring your hair, you're using a formula that is specially designed to soften mature and dry hair, like ammonia-free hair dyes. Check out our article on how to care for colored hair for more tips!
9. Avoid the roots when your moisturizing fine hair
Not all hair is the same, hence tips on how to moisturize hair might differ for everyone. For example, fine hair is usually the driest at its ends so focus your application of conditioner on those areas.
10. Layer your products properly
If you're wondering how to moisturize your hair and keep it that way, consider adding leave-in conditioner to your weekly routine. However, it's important to layer your hair products properly. Apply a leave-in conditioner to damp (not wet) hair before you apply other products such as styling aids. Not only will this allow the conditioner to soak into your hair better but will also provide a base layer for products such as styling mousse.