How to add volume to hair
Is there any greater feeling than leaving the hairdresser with glossy, voluminous hair? We don't think so. But knowing how to add volume to hair at home can be tricky. Luckily, we've got some experts here at Love Beauty and Planet to compile the perfect go-to guide for how to get more volume in hair, so you don't have to trawl the internet to figure it out yourself.
How to add volume to hair?
Whether you're dressing up for a big night out or just heading to the supermarket, dull hair is never the desired look. The good news is, with so many easy ways to add volume to your hair, you're sure to find one to suit your hair type. Want to know how to get more volume in the hair? Then read on!
Avoid heavy products
The biggest enemy to voluminous hair is heavy products. This is because they weigh your hair down, causing it to lie flat. If you want to know how to give hair more volume, our experts recommend using products that offer lightweight moisture, like our Coconut Water & Mimosa Flower Shampoo and Conditioner. Infused with organic coconut water, these products lightly moisturize your hair and leave your locks strong and volumized.
Dry hair shampoo
We've said it before, we'll say it again: dry hair shampoo is a gift from the heavens! We love our Coconut Water & Mimosa Flower Dry Shampoo for adding volume to hair, and as a bonus, it leaves your hair smelling gorgeous! For the best results, our experts recommend splitting the hair into sections before spraying it with dry shampoo, rather than simply applying it to the top of your hair, as this will provide more body.
If you're looking for tips on how to get more volume in the hair, then gently backcombing your roots after applying dry shampoo will do just that.


Skip conditioner (if you can)
If you're looking for an answer for how to give hair more volume, then skipping conditioner is one possible solution, especially if you have very oily hair. Thick conditioners can be heavy on the hair, causing it to fall flat. Our Shea Butter & Sandalwood Shampoo is a great option if you're skipping conditioner as the shea butter still provides moisture and the sandalwood leaves your hair smelling super fresh!
Use a cleansing conditioner
If your hair needs the extra moisture, then fear not – cleansing conditioners are a great way to give your hair some much-needed hydration while not weighing it down. We recommend using a cleansing conditioner such as our Shea Butter & Sandalwood Gentle Cleansing Conditioner. Designed for hair that is prone to dryness, this cleansing conditioner softly dissolves grease and build-up while giving your hair luxurious bounce and moisture.
Change your parting
If you want to know how to get volume in hair naturally, then a simple change in where you part your hair may be the answer you've been looking for. Where your hair falls naturally will most likely be where it falls mostly flat. By switching up your parting, your roots will lift, helping you get that extra bit of volume with minimal effort.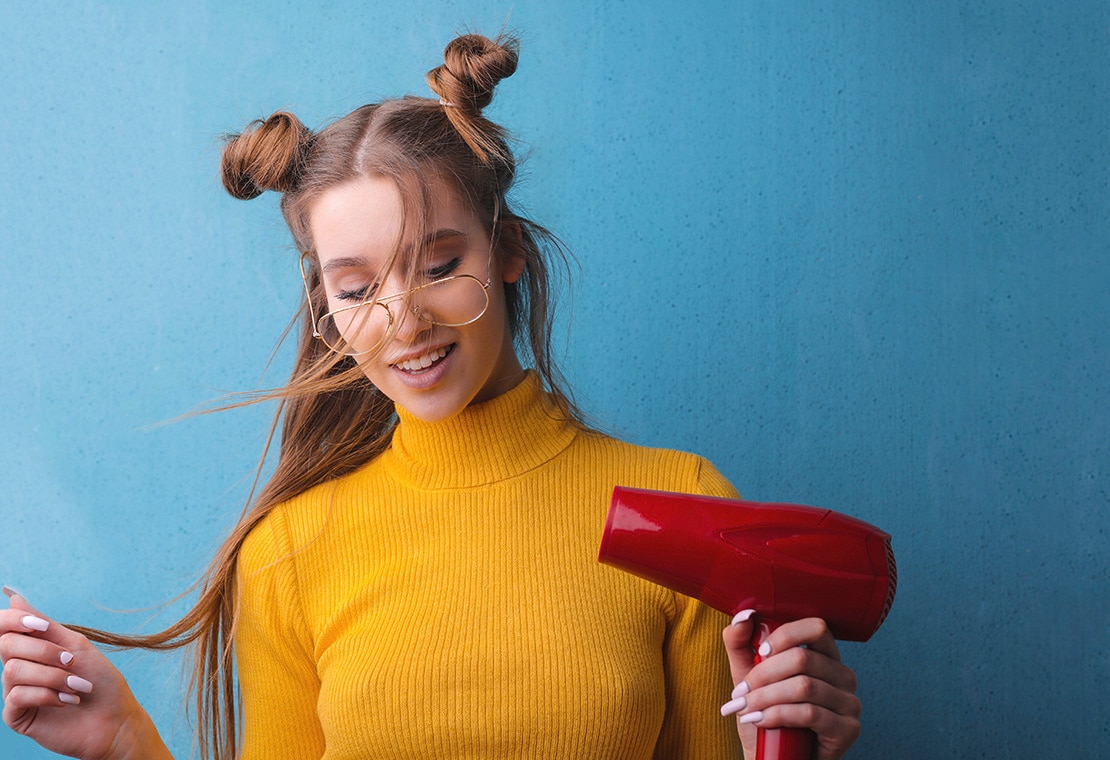 Blow dry upside down
You might feel a bit silly blow drying your hair upside down, but you won't when you see the glorious results! If you want to know how to create volume in the hair, then our experts recommend switching up your blow-dry routine. Simply flip your hair upside down and then blow dry it as normal.
Just like when you change your parting, this method helps to redirect your roots from where they would naturally fall, adding more body and bounce to your locks! Finish off with some of our Coconut Oil & Ylang Ylang 3-in-1 Benefit Oil to help tame any frizz or flyaways.
Sleep on it
Want to get voluminous hair in your sleep? Yep, it's possible! Simply put damp hair into a bun (or a few buns for more definition), secure with a scrunchie, and head to bed. In the morning you'll wake up to gorgeous bounce with minimal effort! Make sure to twist your hair away from your face when creating your buns so the waves don't overwhelm your face.
And that's it! The days of having dull, flat hair can now be a thing of the past with these simple tips and tricks on how to add volume to hair. Looking for more hair inspo? Check out our ideas for messy hairstyles.