Hairstyles for short hair
Have you been looking for a little inspiration for how to style short hair? Whether you're looking for new short natural hair styles or just what to do with short hair, we've got you covered no matter what short haircut you have!

Easy hairstyles for short hair
When it comes to short natural hairstyles, there are a number of stylish options to choose from. Here are a handful of haircut ideas to inspire you:
Short and messy
This might sound a little scruffy, but a textured cut like this can give an effortlessly chic look. Done well, you can rough it up, sweep to the side or even clip back a little. This is a versatile style and these styling tips are so easy to do.
Pixie cut
This is one of those easy hairstyles for short hair that seemingly never goes out of fashion. Think of Emma Watson back in the day, and her gorgeous slicked back 'do. Perfect for everyday ease, this look is also great for those evenings when you want to finish off a super-classy look too.
The bob
Another of the all time classic hairstyles for short hair, you can really play around with a bob. It'll work at any length from jawline to shoulders. Textured, tousled, graded or blunt, there's so much that you can do.
The great thing about these short hairstyles is their versatility, both in how you ask your stylist to cut them and how you choose to wear them. This brings us on nicely to our top tips and ideas about what to do with short hair.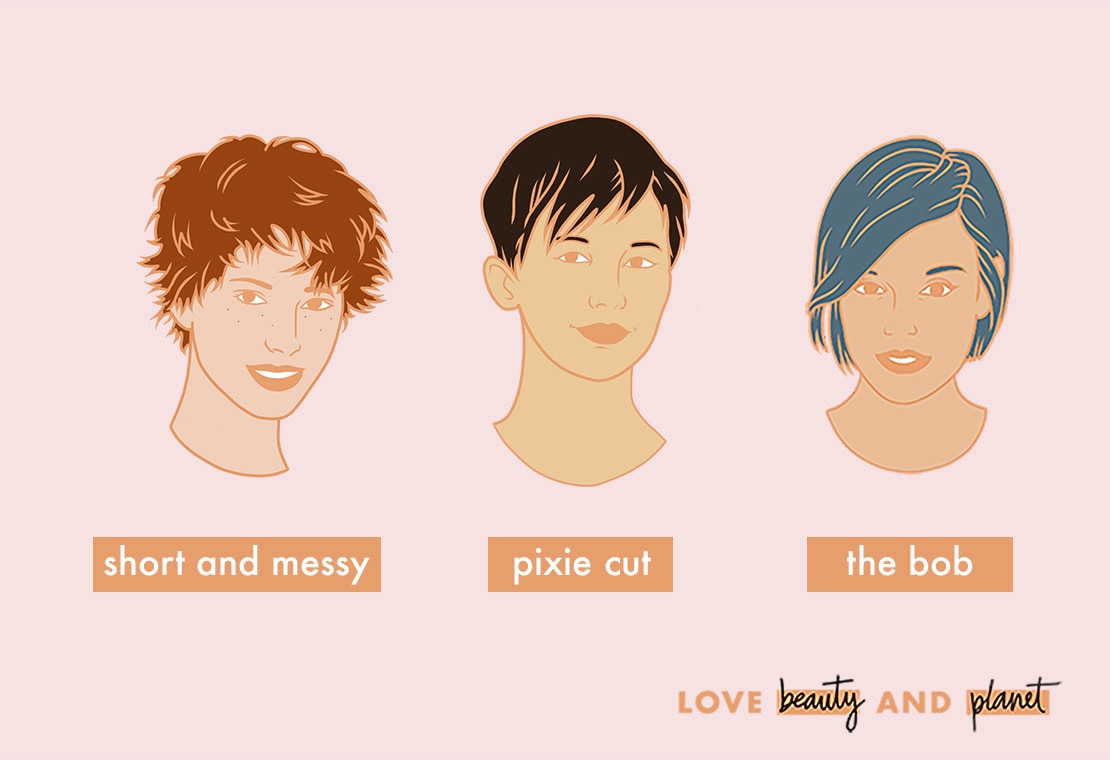 How to style short hair?
Here are three of the best ways to style short hair, with step-by-step guides for each.
The messy do
This style is perfect for thin and heavy hair, and you can have lots of fun playing around with it. After all, stylish bed hair is all the rage. Here's how to get the look:
Take a small amount of your favorite styling product – hair cream, gel, wax, fiber, paste, etc. Warm in your hands and work into your fingers.
Simply rub through your hair to create the desired look. Twist the product into each section for maximum control. Well, maximum controlled messiness, that is.
Lift a little at the tips for a spikier look.
Smooth at the sides if you want sleeker sections to contrast your choppier top.
Be completely random if you want a completely messy look.
Be guided by your hair type and desired finish for the amount and type of product you use and remember that less is more.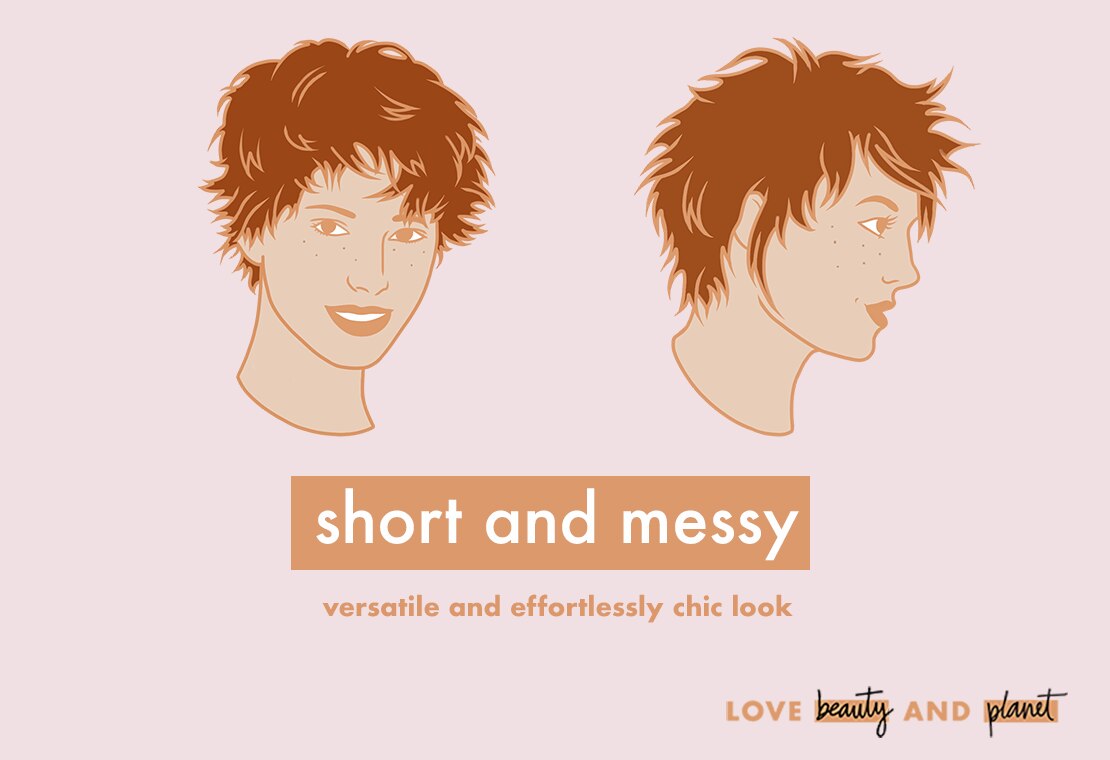 The pixie cut
Sometimes the pixie cut is thought of as one simple look, and that's perfect if it's the look you want. However, it can be more versatile too. For example, you can opt for the super-sleek slicked down version, or you can go for a more volumized version.
For a sleek look, it's all about smoothness, so if your hair is straight, this is going to be easier for you. Follow these steps:
A sleek pixie style works best when you start with damp hair. That way you're starting off with as few flyaways as possible.
Dry your hair and use a round brush to pull each section down.
Start to angle the brush when working on your bangs to create a swept look.
Finish with a holding product of your choice, using the palm of your hand to create an uber-smooth finish. It's that easy.
For a more textured, volumized version, follow these steps:
Make sure your hair is dry to start with.
Give your locks the once over with our Dry Shampoo to help create volume. Simply spray directly onto your roots.
Use the brush to sweep it up. If you want a uniformed 'up do', pull the hair straight up.
If you'd prefer a choppier look, brush in different directions.
Finish with another quick spray of dry shampoo to hold.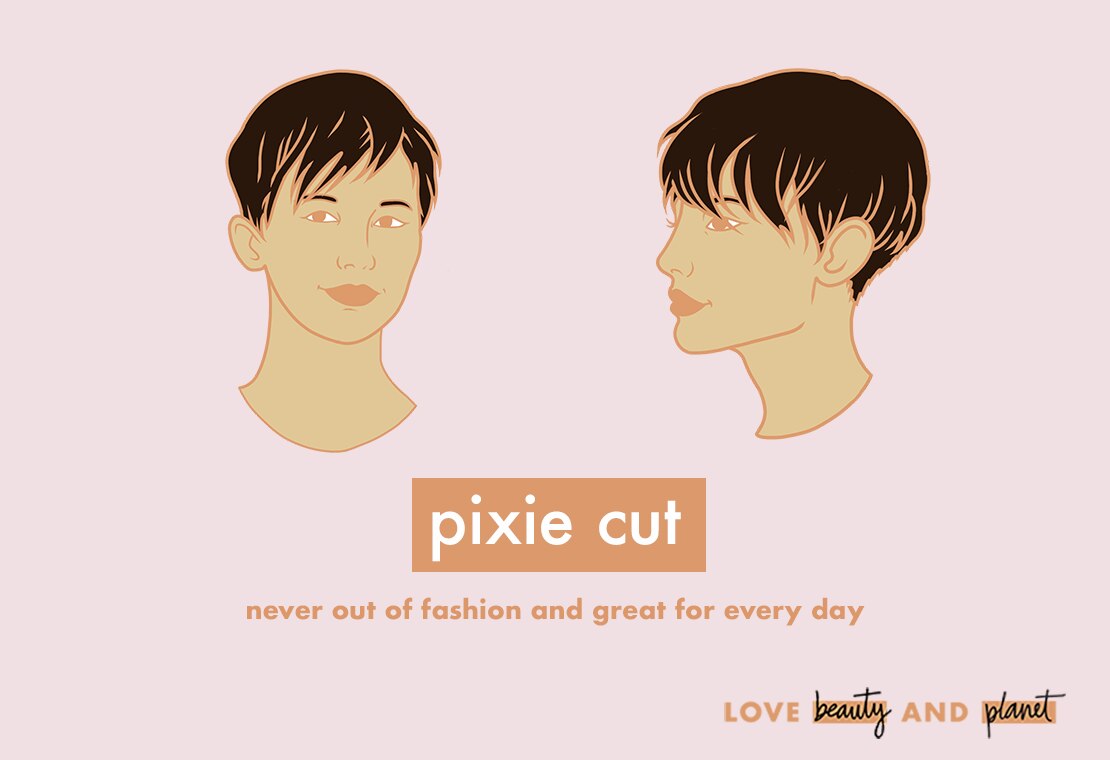 The bob
So stylish, and so many options! Slicked to create a really blunt look. Flicked with curlers to give a cool bohemian feel. Central or side parting. Take some time finding styles that you love!
This beach bob is a slick style to try with these step-by-step instructions:
Start off by washing your hair.
Rather than blow-drying, dab with a towel, or better still let dry naturally.
Give your hair a little twist as it dries to create those beachy waves. Avoid combing, and if you're going to brush give your hair a little tousle as you go.
The wavier you want your hair the more twists you'll need.
Clip a little hair back around the ears if you want a more polished look.
Apply a little spritz of our Light Hold & Frizz Control Coconut Milk & White Jasmine Hair Spray is perfect for a sleeker finish.
Top tip! Getting the look you want doesn't have to require stressing your locks with heat stylers. Check out our tips for heatless hairstyles to find out how.
There you have it, our guide for how to style short hair. Remember, it's all about being playful and creating looks that you love!