6 easy hairstyles for curly hair
Wanting to switch up your hair but lacking inspiration for cute hairstyles for curly hair? Or are you just looking for easy curly hairstyles to get you out the door in the morning? Well, you've come to the right place! In this article, we explore 6 easy hairstyles for curly hair, step by step!
1. French Braid
A French brand might look hard but with a little, it's actually an easy hairstyle for curly hair that looks great.
Prep your hair by fully brushing through and getting all tangles out.
Start by gathering a big chunk from the top center.
Separate this big chunk of hair into three even pieces.
Begin by making a traditional braid—hold two strands in one hand, and the third strand in the other.
Simply cross the right strand over the center and then cross the left strand over the center.
Repeat this entire process until you have a few rows.
Keep going and bringing in other pieces of hair. Before crossing a section over you should make sure to take some hair from side of the head and cross-over.
Every time you manage to cross over, work in new small pieces of hair.
And there you have it – a cute and easy hairstyle for curly hair! If you're really struggling with French braiding and have no extra pair of hand to help you out, we've created a separate step-by-step visual guide on how to do it on your own head – check it out here.
2. Half bun
Let us take you through the best way to make a half bun, a super easy hairstyle for curly hair, step by step.
First prep your hair by washing and conditioning with our Coconut Milk & White Jasmine Collection – the coconut milk will give your hair gorgeous moisture and the white jasmine will leave your locks smelling amazing!
Don't forget to brush through your hair to remove any knots and tangles.
Either with damp or dry hair, pull the top section of your hair back and tie in a ponytail.
Next, simply twist your hair into a bun and secure your ends with bobby pins or tuck into your ponytail elastic band.
3. Messy Topknot
The messy topknot is one of many easy hairstyles for curly hair to do at home!
Section those strands off and then secure half of them in a ponytail and then backcomb it.
Take those same sections of hair and wrap them around the base of the ponytail to create a topknot.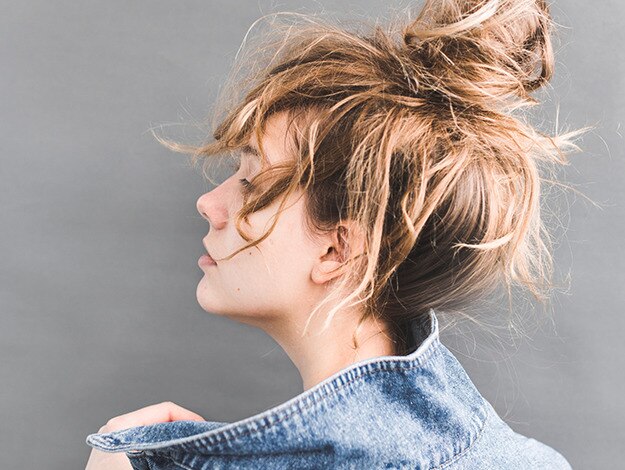 4. Curly Hair Ponytail
One of the easiest cute curly hairstyles, this is a great look if you're in a rush!
In order to create the perfect ponytail, make sure you shower with a gentle but moisturizing shampoo and conditioner, like our Coconut Oil & Ylang Ylang Shampoo and Conditioner.
Start with a hair tie on your wrist and brush your hair to get rid of any tangles.
Using your hairbrush, gather up your hair and lift to the height you want your ponytail.
Then smooth your hair back and wrap a hair tie around your ponytail. All done!
5. Twisted Braids
This is a great *twist* on a classic French braid. It allows to achieve a similar effect with half the effort!
Brush your hair to remove any knots before you begin and make sure you wash and condition with our Indian Lilac & Clove Leaf Collection first before beginning.
Gather all your hair into a ponytail and then split that ponytail into two equal sections and twist both sections to the left.
Keep twisting the sections to the left and wrapping them to the right and then place into a hair tie.
6. Pinned Curls
Pinned up curls is one of our favorite cute, easy hairstyles for curly hair.
As anyone with curly hair knows, moisture is key! For this look, start by washing your hair with our Shea Butter & Sandalwood Shampoo and Conditioner for ultimate hydration.
When your hair is dry, spray your curls with some of our Coconut Milk & White Jasmine Hair Spray to help give them extra bounce and hold.
Take a few sections of hair from the front and pin back with bobby pins until you have achieved the desired effect.
And Voila! A quick and easy hairstyle for curly hair in no time!
As you can see, there are so many super easy, super cute hairstyles for curly hair! If you're looking for more inspiration on how to take care of curly hair, check out our curl classification guide!