3 ideas for easy braided hairstyles
Braids have been a staple hairstyle on the streets, in the clubs, and on the runways forever! Well, not quite forever maybe, but various types of simple braid styles have been around for hundreds of years. And easy braid styles are still among the most stylish of 'dos today. Here's our guide to four of the most stylish and simple braids to try for yourself.
Quick braid hairstyles
Even simple braids can look like they're really difficult to do, but once you've got the know-how, you can braid your own hair with ease. And the more confident you are, the easier it'll be to create your own easy braids in no time. When it comes to different types of quick braid hairstyles, here are three of the best:
Dutch braids
Next up, the reverse braid – another name for the Dutch braid. It's called that because it is a reversed French braid. For more details about doing French braids, check out our separate step-by-step-guide.
To pull off this look all you have to do is follow the same technique as a French braid. However, instead of crossing the hair over, you cross underneath. That creates a more volumized braid, perfect for fine and thin hair.
Take three sections of hair at your crown.
Cross the sections underneath each other and as you work down, gather more hair to incorporate into the braid.
Once you've reached the bottom of the braid, hold the ends together with a hair tie.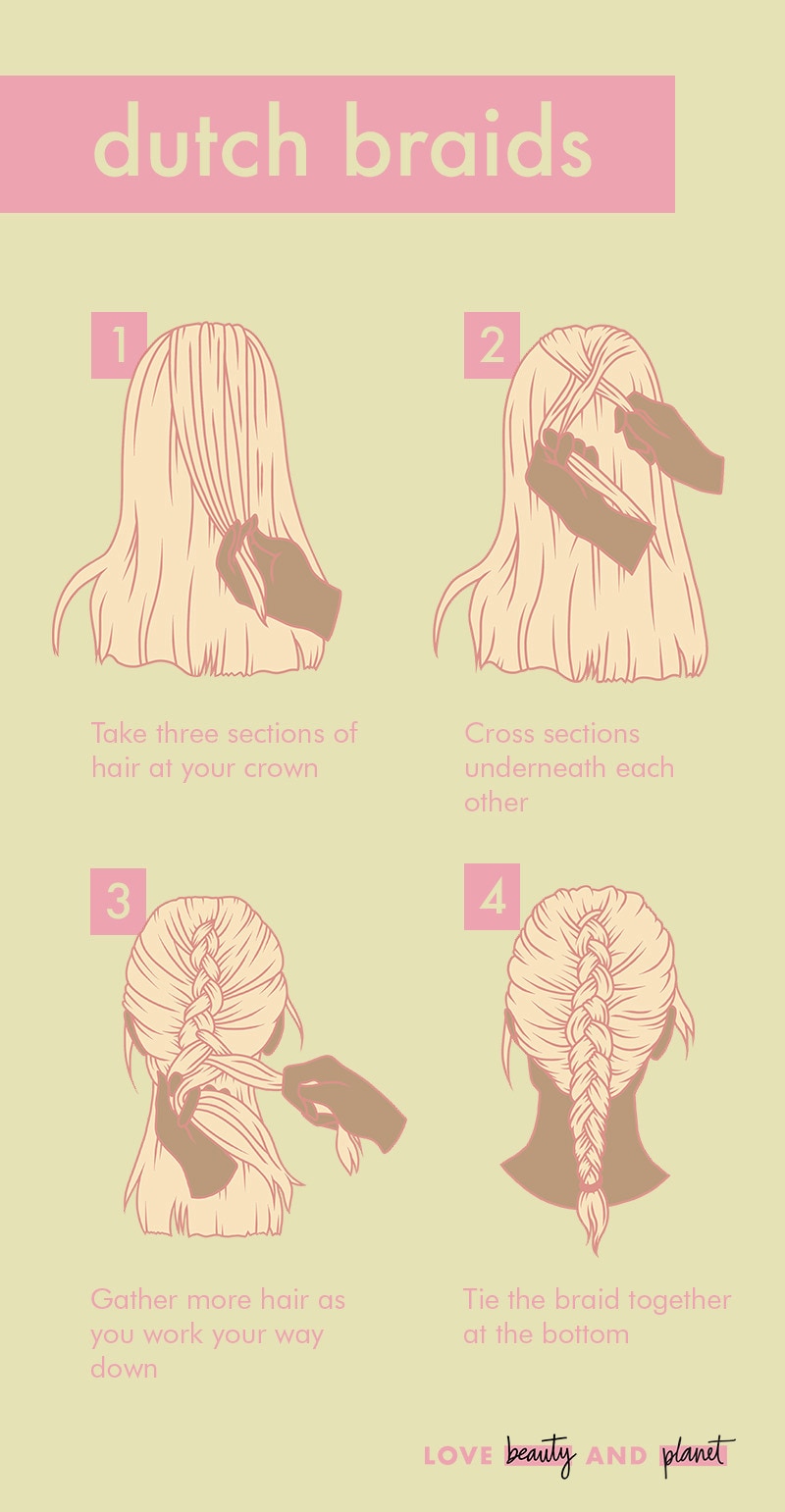 Rope twisted braids
Rope twisted braids are another great style to try. Not only do they look fabulous on a variety of hair types, but they're also great for giving the feel of a curve to otherwise straight locks. They are also one of the simplest braid styles to do. Here's how to create the look:

Easy braided hairstyles all begin with the right prep, and with rope braids that means making sure your hair is cleaned and detangled.
First, tie up your hair into a high ponytail and divide it into two sections.
Twist each section in a clockwise direction, right down to the tips.
Now work in an anti-clockwise direction and intertwine the sections, securing with a hair tie when done.

Fishtail braids
Fishtail braids are another simple style that involves using just two strands at a time. The finish gives you one of the most effortlessly cool looks you can get from any easy braided hairstyles – especially when you want it to look like they've actually taken a long time. Follow these steps for flowing fishtail braids:
Divide your hair into two even sections.
Take a small piece (around half an inch) of hair from one side and cross it over to join the inside of the other section.
Simply continue this process, alternating from side to side, until you're ready to tie off your finished fishtail.
You can do these braids down the middle of your hair, to one side, or on both. It's actually really good to start with a side braid, as it's much easier to see what you're doing.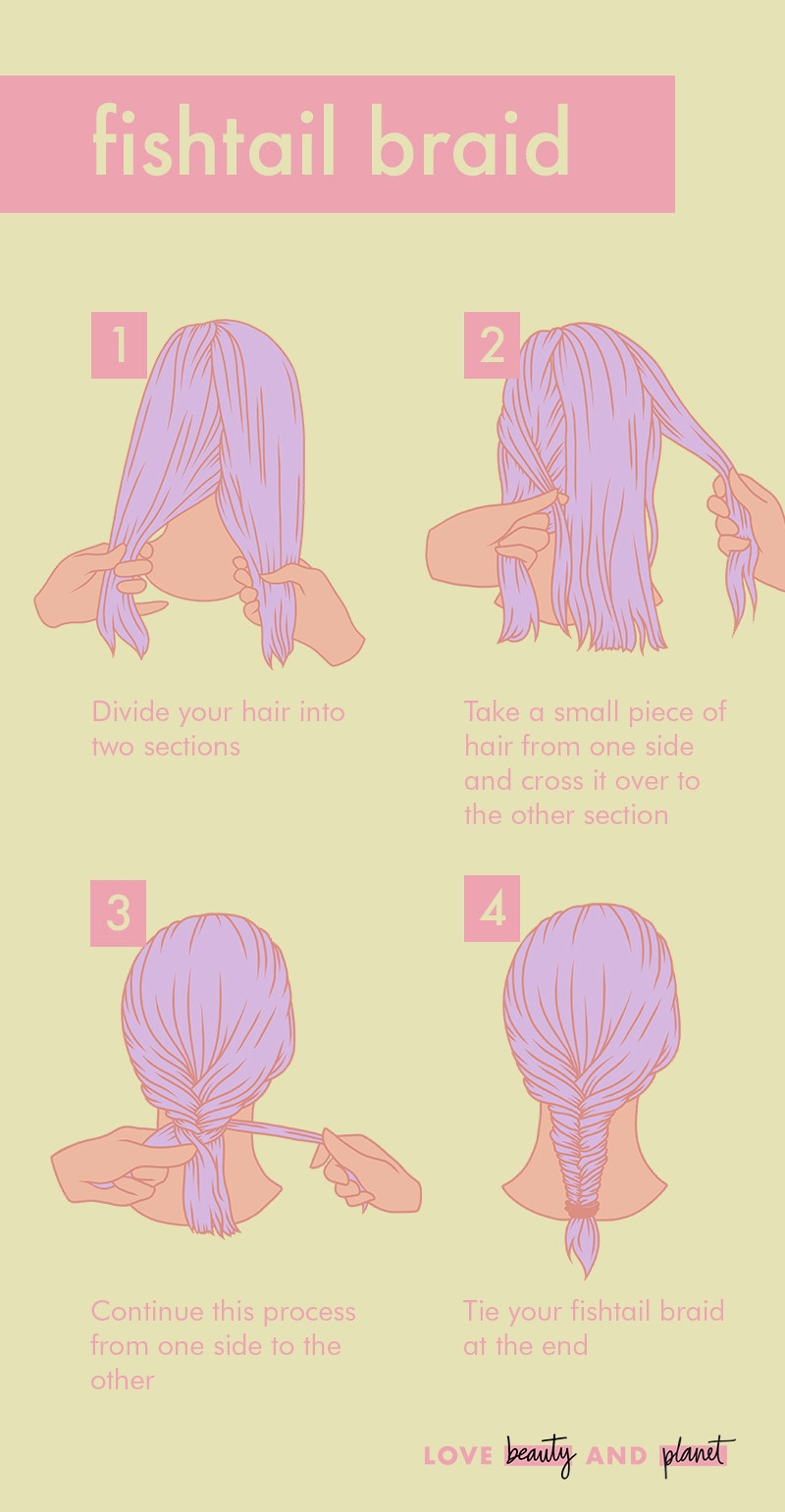 Whatever type of braid you decide to go for, you'll get a great finish and fix with our Medium Hold & Volume Coconut Milk & White Jasmine Hair Spray. Its natural ingredients will leave your hair smelling sweet. It tames unruly strands without leaving you with the look and feel of stiffness that other hairsprays can do.
And there you have it – four stylish braids for you to choose from. Give them a try and you'll be a braiding master in no time!